OXYBIG Flower Power classic 100ml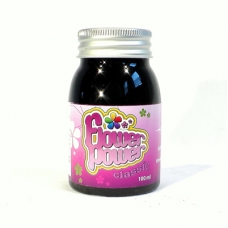 Product Code:
100ml
Reward Points:
0
Availability:
In Stock
Price: 33.33€
Ex Tax: 28.01€
OXYBIG Flower Power classic is an organic growth and flowering stimulator.
It is a highly concentrated solution of natural active ingredients extracted from brown algae (Phaeophyta). It is designed to optimize growth conditions for maximum quality and yield.

Benefits
OXYBIG Flower Power is designed to optimize plant productivity through the application of concentrated seaweed bio agents.
These biomolecules include synergistic fucoidan and laminarin which elicit phytoalexin biosynthesis.
OXYBIG Flower Power contains bio-active probiotic components which selectively promote the growth of beneficial bacteria on plant, foliage and roots.Natural plant growth hormones help optimize plant growth and development.
The response of OXYBIG Flower Power in plants is manifest as:
increased sugar content
increased root mass
uniform ripening
stronger leaves
increased yield
OXYBIG Flower Power is suitable for use in organic production.
OXYBIG Flower Power conditions plants to better tolerate environmental stress.
It can be applied before and after periods of stress.

Application
OXYBIG Flower Power may be applied to the roots and the leaves.
Water volumes: Recommended to apply at a minimum concentration of 1-2 ml in 1 liter of water.
Applications should not be made during extreme daytime temperatures or in strong sunshine.
Apply in cool conditions, preferably in early morning or in the evening.
Addition of an adjuvant is not required.

Mixing and application
Shake the container well before opening.
Fill the sprayer tank first with half the required amount of water.
Begin agitation and slowly add the required amount of OXYBIG Flower Power.
After complete dilution you add the rest of the water.
Maintain agitation whilst standing and throughout the spraying operation.
Diluted solutions of OXYBIG Flower Power should be used promptly.

Storage
Store in a cool place out of direct sunlight.
PROTECT FROM FROST.
Store above 5°C.
Write a review
Your Name:
Your Review:
Note: HTML is not translated!
Rating:
Bad
Good
Enter the code in the box below: